Solar Power Panels for your Home or Commercial Building in Irvine
Irvine covers 66.45 miles; it falls 40 miles from the sprawling metropolis of Los Angeles and just seven miles from the magnificent Pacific Ocean. It is an ideal location install solar panels. Because Irvine is home to highly-rated public schools, a large number of jobs requiring a skilled workforce, and residential housing, Irvine was chosen in 2008 by CNNMoney.com as the fourth best place to live in the United States.
The City of Irvine community has now grown to around 250,000 hard-working residents. Irvine provides an excellent opportunity to homeowners and building owners for solar power due to its sunny year-around climate (300 plus days of sun). Education in Irvine schools is the best in Orange County. Irvine is also the safest city in USA for seven plus years now. Irvine is home to some of the best parks and has the highest green belts of any other city in Orange County. Irvine homes are some of the most sought after by current and future residents. Further, City of Irvine provides no-fee solar permit for installing solar panels for your brand new solar powered roof.
Irvine home owners and business owners are installing solar panels on their roofs, and powering their homes and buildings with solar energy. They are seeing upward of 50% cost savings in their electricity bills. Most solar installations are paying for themselves within a few years because of all the government and state incentives.
Irvine is Aikyum's Home Base
Aikyum Solar makes its headquarters in Irvine. Irvine residents have probably driven by our office building, which is just a short drive away from the boba-hotspot Lollicup. You might also have seen our trucks driving around—they're white with the Aikyum logo emblazoned on the side.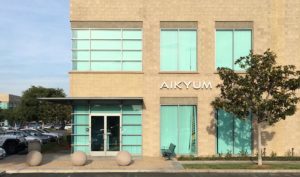 On top of that, our founder, Harina Kapoor, lives in Irvine and sent her children to Irvine schools. Therefore, when Aikyum installs solar panels in Irvine homes, we are working with our neighbors. Neighbors help each other, whether through lending an egg for cookies or sharing fruit from the trees in their backyard. Aikyum would love to help fellow members of the Irvine community turn to clean, efficient energy.
Northwood High School, the school which Harina's two daughters attended, installed solar panels over their parking lot, where they catch the sunlight of the California days. Northwood is a central feature of Irvine, educating young people who represent the future. Thus, by installing solar panels, you can follow Northwood's example.
The City of Irvine Supports Solar
The City of Irvine wants you to install solar panels — they even removed the fees to receive permits and get plans checked to install solar. By contrast, applicants for a driving learner's permit must pay $33 before they can take the test. Irvine makes applying for solar power a bargain!
That bargain came about because the citizens of Irvine voted to pass Measure S. In this measure, Irvine built on its history of environmental sustainability. Our city has long dedicated itself to preserving open spaces, maintaining open spaces for residents to enjoy. We like to conserve water and maintain biodiversity. Measure S stated that the city would encourage buildings and technologies that involve renewable energy, such as solar power.
Aikyum Solar will help you design, finance, apply for, install, maintain and monitor your complete solar panels system in the city of Irvine. The Best Part: Aikyum Solar is offering $0 down and extremely low rate financing for all our new solar systems. Aikyum Solar has been servicing residential and commercial clients in Irvine for many years, and is the most trusted name in solar.
Contact Aikyum Solar today for a FREE Quote and don't miss this golden opportunity provided in the city of Irvine.