RESIDENTIAL SOLAR PROJECTS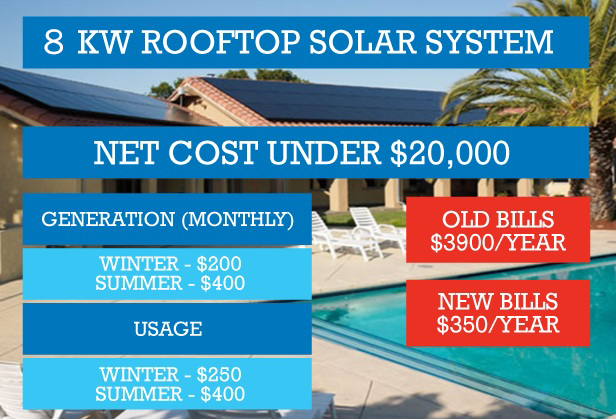 HOW WE CALCULATE PAYBACK PERIOD
Call Aikyum Solar at 888-9898-SUN. Aikyum Solar provides professional design, installations, financing, post installation support, and all other solar related needs, by trained certified technicians at an all time low price!
"Assume a solar system on your rooftop of about 8 kW in size. Cost to put up this system is approximately $27,500. After the rebates and federal state tax credits, your out of pocket expense is under $19,000.
 Generation in Winter is approximately $200 during winter months, and $400 during Summer months.
 Usage in Winter is approximately $250 per month, and during summer is $400 per month.
Old Bills were about $3900 per year. After the solar system installation, new bills will be $350 per year.
If you take equity loan for $17,500 with 5% interest rates, payments are $3000 per year.
 Savings are $3550 per year, and your system is paid off in 6 years. If you do not take a loan, system is paid off within 5 years.
Top Rated Solar Company Based in Orange County